1x32 COUPLER SPLITTER MODULES on 100x80x10mm cassette

Valdor's new three window single mode splitter modules
have high density port configuration with outstanding performance over the 1310nm, 1490nm, 1550nm operating wavelengths. They are designed for PON tri-play network systems. They have low insertion loss, excellent uniformity, and low polarization sensitivity. They are contained in a compact and lightweight cassette enclosure. All devices are tested according to industry standard test procedures and customers are provided with test results / data.
For any specialized or customized applications, Valdor can provide customers with specific designs and specifications.
All components are Telcordia GR-1209 and GR-1221 compliant.

Three Operating Windows
Low Excess Loss
Low PDL
Low Profile Packaging
High Stability and Reliability

Optical Communication Systems
CATV
FTTH
Fiber Amplifier Systems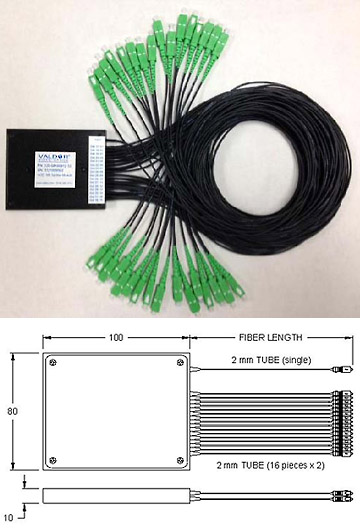 Insertion Loss (dB) (max.)*:
Uniformity (dB) (max.):
Polarization Dependent Loss (dB):

1x4
7.5
1.0
< 0.3
1x8
10.8
1.2
<0.5
1x16
14.4
1.5
< 0.6
1x32
17.5
2.0
< 0.6
Operating Wavelength (nm): 1310 / 1490 / 1550;
Operating Wavelengh Range (nm): ±40;
Directivity (dB): < 55;
Return Loss (dB): < 55;
Power Handling (mW) (max.): 500;
Operating Temperature (°C): -55° to +100°;
Storage Temperature (°C): -55° to +100°;
Package Dimensions (mm): 100x80x10;
NOTE: * Insertion Loss does not include connectors
---