Valdor's Impact Mount
®
fiber optic connector line (IMT) is
all-mechanical
and
field installable
. It offers long-term usage with minimal repair or replacement, and is suitable for harsh environments. These connectors contain
NO epoxy
or index matching gel typically found in other mechanical connectors available on the market. The mounting concept is based on dynamically compressing metal ferrules uniformly around optical fibers creating a
hermetic seal
. The unique features of the IMT connectors provide stable readings with little variation even in harsh environments.
Field termination
is quick and easy. The Impact Mount
®
Termination Hand Tool is universal and can be used for all types of IMT fiber optic connectors including
LC, ST, SC, FC, SP,
and
SMA
.
SERVICE ENCLOSURE
w/
SP MINIATURE CONNECTORS - IMT
Valdor's SP Miniature Connectors are designed for high-density applications for all fiber optic service enclosures/ boxes. The mechanical SP miniature connector is the smallest connector available in the market. It is composed of a unique metal ferrule with no housing. Two ferrules terminated with separate fibers are mechanically mated with a C-sleeve. The SP multi-fiber connections are mounted onto a cassette and are placed inside a service enclosure/ box for quick re-entry and cable expansions, allowing easy addition of more lines. It is ideal for FTTP/FTTH, central offices, hubs, industrial, and security equipment.

mechanical miniature splice connector
for all types of service enclosures / boxes
NO epoxy or electricity required
ability to reopen for servicing
minimize space for indoor and outdoor installations
compact cassettes available
ideal for space-restricted enclosures
mountedwith all-positive-stop mechanical tools
for buffer fiber applications
Field installable and user friendly
(5-minute installation per connection)

Data / Telecom
FTTH
FTTP
Mining
Industrial
Security equipment
Military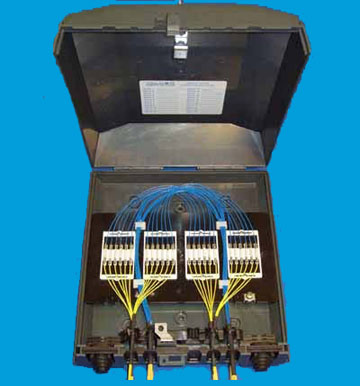 Impact Mount® Technology Concept
The mounting process is accomplished in three steps:
Impact Mount tool dynamically compresses the metal ferrule tip around the fiber
Crimps buffer at the rear of the connector
Polishes end of ferrule in 20 seconds
Note: Additional crimping for Kevlar cables provides further stability and strength.
---