Valdor's Impact Mount
®
fiber optic connector line (IMT) is
all-mechanical
and
field installable
. It offers long-term usage with minimal repair or replacement, and is suitable for harsh environments. These connectors contain
NO epoxy
or index matching gel typically found in other mechanical connectors available on the market. The mounting concept is based on dynamically compressing metal ferrules uniformly around optical fibers creating a
hermetic seal
. The unique features of the IMT connectors provide stable readings with little variation even in harsh environments.
Field termination
is quick and easy. The Impact Mount
®
Termination Hand Tool is universal and can be used for all types of IMT fiber optic connectors including
LC, ST, SC, FC, SP,
and
SMA
.
SERVICE ENCLOSURE
w/
SP MINIATURE CONNECTORS (IMT)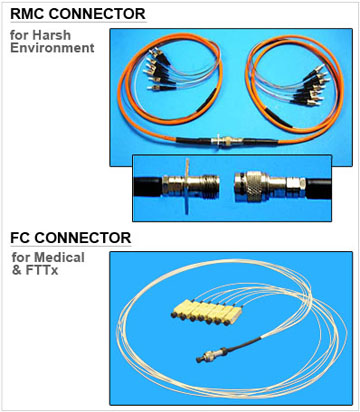 Impact Mount® Technology Concept
The mounting process is accomplished in three steps:
Impact Mount tool dynamically compresses the metal ferrule tip around the fiber
Crimps buffer at the rear of the connector
Polishes end of ferrule in 20 seconds
Note: Additional crimping for Kevlar cables provides further stability and strength.
Valdor's 7-Fiber FC & RMC Multi-Channel Connectors are the newest products being introduced to the industry based on the Company's patented and proven IMPACT MOUNT® Technology (IMT). These multi-channel connectors are part of the HeptoPort™ product line that utilizes the breakthrough self-aligned two dimensional (2D) concept; a technology that enables a single optical connector to be aligned with a rotational alignment key such that when 2 multi-channel connectors are mated, all 7 fibers will be automatically aligned. These new products offers the highest density per surface area to interconnect optical fibers in the field at a significant cost savings to the end users.
Similar singlemode connectors will be available shortly that will complement our 7-Fiber Multi-Channel Connector line.
HeptoPort™ Interconnection R & D
MEMS  

Mechanical Optical Switches (1 by 6) 

Isolator (7 by 7) 

Coupler (1 by 6) 

Hologram DWDM Devices 

Planar Waveguide Integration/
Miniaturize

IMPACT MOUNT™ Technology is a ferrule-based, mechanical fiber packaging technology. It carries a legacy of success in the medical, military and aerospace industries. HeptoPort™applies IMT to multiple fibers scenarios, with breakthrough self-alignment feature, and the lowest cost in the industry.