INVESTMENT PROFILE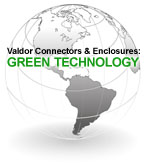 Valdor has a unique breakthrough technology in fiber optics. In early 2000, when technology projects enjoyed unprecedented popularity, the Company's stock price rose from $0.30 to $14.00 in less than two months primarily on the strength of R&D and potential. This R&D is now complete and the technology is ready for market. The Company is in production and has modest annual sales of about US$300,000. The vast majority of high-flying technology companies of the 1995/2000 era no longer exist; Valdor has not only survived, it has grown past the R&D stage, as a new-generation technology company, and is progressing on the continuum to profitability. 
VALDOR TECHNOLOGY INTERNATIONAL INC. (VTI-V) FEATURES:
Fiber optics is the future of communications. Fiber optic connectors are a major profit center within this market.
The basic product line of Valdor is all-mechanical, field installable fiber optic connectors that are revolutionary in that they do not require epoxies or index matching gels.
The annual global market for fiber optic connectors is estimated to be US$2 billion. The annual growth rate is estimated to be nearly 10‰.
There are two technologies that Valdor has recently developed into revolutionary, next-generation products: (1) the Heptoport, (2) the Omega Enclosure.
The Valdor marketing focus is not to displace other conventional technologies that are represented by wealthy, established companies. The Valdor focus is niche markets where, because of technical advantages, Valdor is the only solution.
The two major players in Valdor's industry are Corning and 3M. Unbiased third parties have tested and confirmed that technologically the Valdor connectors are significantly or dramatically superior to these conventional connectors.
Directors and close associates own more than 65% of the fully diluted Valdor stock.
Valdor holds several patents on its connector technology in strategic global regions.
It is estimated that more than US$20 million has been spent in R & D to bring the Company to its current state.
Valdor is in discussions with several major companies that, in the near term, could place substantial orders.
Upon achieving a market penetration of between 0.5% and 2.5%, Valdor could become a takeover target for major companies that direct sell fiber optic products and / or services.