IMPACT MOUNT™ TECHNOLOGY (IMT)

ADVANTAGES:
EPOXYLESS
QUICK & SIMPLE ASSEMBLY TIME
AUTOMATED ALL-POSITIVE-STOP TOOLS
COMPOSITE METAL FERRULE
HIGH RELIABILITY
FEATURES:
Minimum Preparation: 3 seconds buffer strip.
Fast Installation: Crimp rear of connector, Impact front of connector: 30 seconds.
Simple Fiber Scoring/removal: 1 second.
Quick Polishing: 3.0m and 0.3m polishing paper 10 seconds each.
Total Assembly Time: Less than 2 minutes.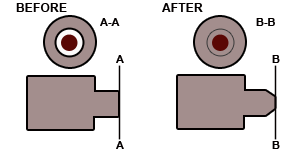 IMT
is a radial compression fit of a ductile metal around a cylindrical glass surface. The need to metallize optical fiber is eliminated by Impact Mount™ Technology (IMT). IMT is a unique, patented design that assures reliable terminations time after time by securing the glass fiber within the metal ferrule. This illustration depicts the single fiber ferrule IMT process. Attachment of metal ferrules to the fiber(s) occurs in one fast mechanical action. This action, called the impact, occurs between the stripped fiber and the ferrule using a precision impact mount die. The IMT connectors/ferrules are made from various metal alloys, the most common types being stainless steel and copper-nickel. The main body of the connector can be all-metal or constructed with glass-reinforced polymer. For a single fiber operation, the result easily creates a hermetic seal between the fiber and the ferrule.
IMT Product Features
Comparison between EPOXY and IMPACT MOUNT™

Automated all-positive-stop tools
Reliable and Repeatable tooling
Single Workstation
Minimal Training Required
Epoxy Required
Cure Oven Required
Ventilation Required
Potential Long-term Health Issues
Dependent on Run Time and/or Quantity
Potential Epoxy Chemical Reaction

Epoxy
no
no
no
no
yes
yes
yes
yes
yes
yes

IMT
yes
yes
yes
yes
no
no
no
no
no
no